CIVIL LITIGATION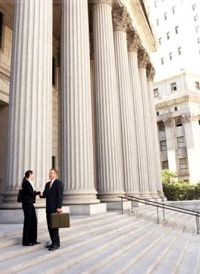 We are experienced in representing clients at the federal and state levels in trial and appellate courts, as well as before administrative agencies and boards of appeal. When other avenues to resolve a dispute have failed, we are prepared to forcefully pursue judicial relief in the courts or defend any complaints brought against our clients.
As litigators who have earned a reputation for creative and effective representation, we always modify our strategies to both our clients' needs and the changing dynamics of each case.
We strive to be the most prepared team in the courtroom. At The Ucheomumu Law Group we consider every fact of a case when designing clients' litigation strategies and approaches. We communicate very closely with our clients and each other in order to establish a sound base of understanding, efficiently allocate resources, and quickly respond to new developments in clients' cases.
Our success stories are many but one of the few success stories we are particularly proud of is representing a Medical Doctor that was sued for $2 million and $12 million dollars. When no other Attorney would take his case because of a purported signed and notarized confession, we took on the cases and got both lawsuits dismissed with prejudice.
---