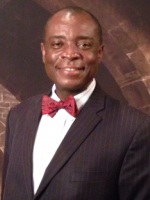 Andrew Ndubisi Ucheomumu (Mazi), LL.M., Esq.
Education
B.Sc. (summa cum laude). Economics and Political Science University of Pittsburgh U.S.A.
J.D. (cum Laude) David A. Clarke School of Law, University of the District of Columbia U.S.A.
LL.M. Constitutional Law with National Security Law, Washington College of Law American University, U.S.A.
LL.M. European Public Law with Shari'ah Law University of Hull Law School Hull, U.K.
Background

Attorney Andrew Ndubisi Ucheomumu (Mazi) has over 20 years of experience in international business. He successfully operated a technology transfer company that built factories in Bangladesh, Bolivia, Nigeria, West Bank of Israel, and Zimbabwe. Mazi, as he likes to be called, is well experienced in international joint ventures, and has negotiated and signed multi-million dollar international joint venture deals. He is very familiar with the financing programs of World Bank's IFC, African Development Bank, Asian Development Bank, Inter-American Development Bank, and the U.S. Eximbank. He participated in many Overseas Private Investments Corporation's (OPIC) investment trade missions. He successfully litigated and won multi-million dollars in judgments involving international trade deals.
As a litigator, Mazi combines diligence and tenacity to serve our clients. He has won many cases that were hopeless from the beginning. One of such cases involved a client who was sued for $2 million and $12 million dollars, respectively and the Plaintiffs were armed with a sworn affidavit that the Defendant signed admitting to the tort. Mazi successfully defended the client and had the two cases dismissed with prejudice. On another case, Mazi successfully defended a client charged with crime, and the government was armed with two signed confessions. Mazi successfully defended the client and the client avoided a criminal conviction. In family law, Mazi successfully represented a financially dependent spouse with no money, and won nearly $8,000 per month in permanent alimony. In internet litigation, Mazi successfully tracked down a website owner that is base in Eastern Europe, and found that their server was located in the United States. Mazi successfully removed the derogatory posting for client on the website. In addition to being an active litigator in Maryland, Mazi has brought cases or defended clients in Ohio, Missouri, Minnesota, Texas, and the list continues to grow. Furthermore, Mazi acts as an outside General Counsel for many businesses.
Mazi is a proud member of the American Bar Association, National Bar Association, Maryland State Bar Association, Montgomery Bar Association, Prince George's County Bar Association, J. Franklin Bourne Bar Association, and Federal Bar Association.